DreamHost Website Hosting Review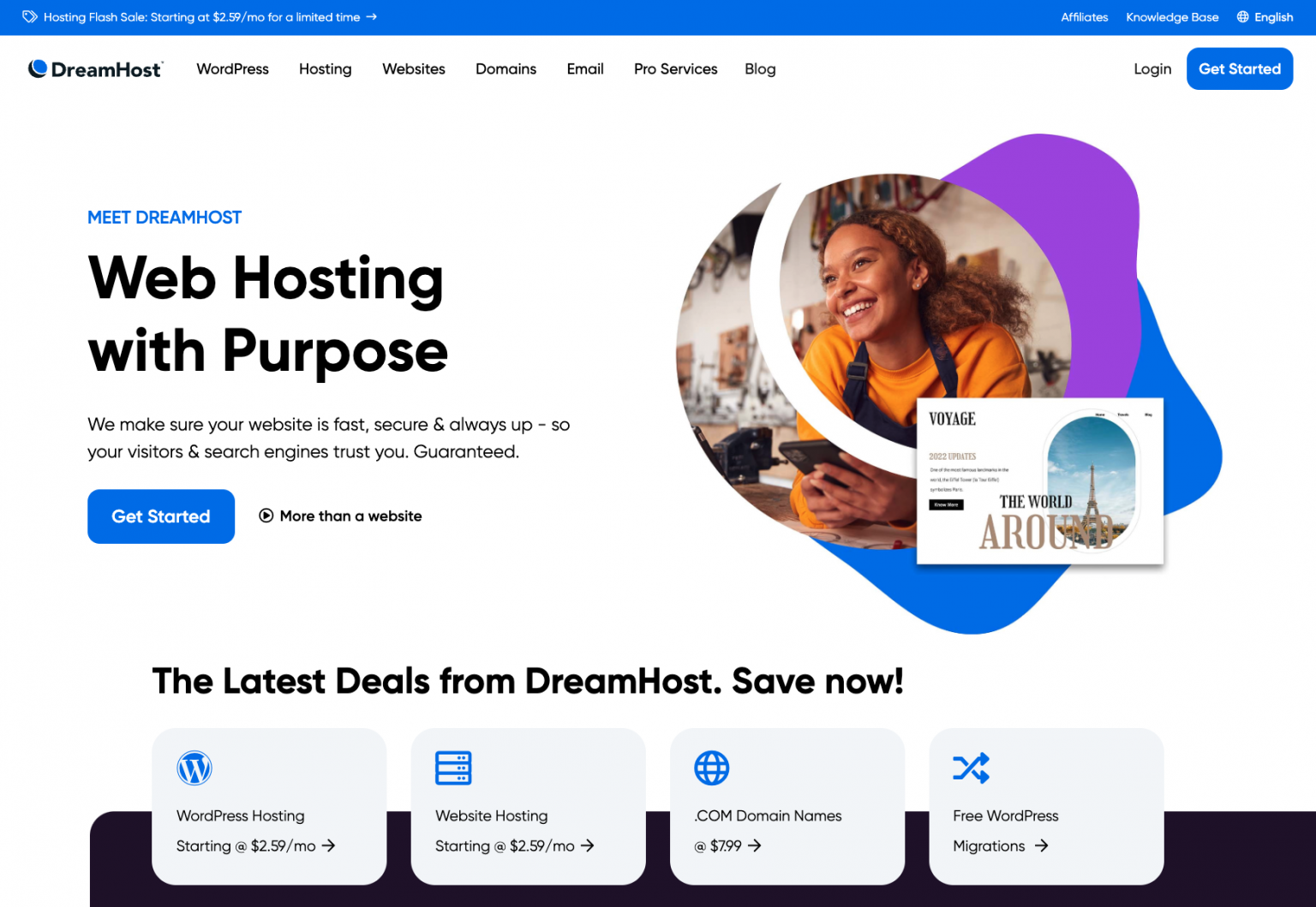 Reg. Price $6.99 – Get 63% Off!
DreamHost, founded in 1996 by Michael Rodriguez, Dallas Bethune, and Josh Jones, is a top-rated web hosting provider based in Los Angeles, California. As an official WordPress recommended hosting provider, DreamHost offers shared hosting, VPS, dedicated servers, and managed WordPress hosting services to meet the diverse needs of business owners, entrepreneurs, and bloggers.
Reliability, speed, uptime, and customer support are some of the primary factors that have made DreamHost a popular choice among web hosting companies. Despite offering a 100% uptime guarantee, DreamHost has consistently delivered reliable performance since its inception, setting it apart from other hosting providers.
DreamHost also provides ample storage, bandwidth, and RAM for all plans, making it an ideal choice for those with Linux-based websites or stores. In addition to these benefits, DreamHost stands out from other web hosting providers due to its focus on security, credibility, and scalability. To help you make an informed decision, let's take a closer look at the features offered by DreamHost.
Pros & Cons of Using DreamHost Hosting
Best Web Hosting Companies
Features of DreamHost Web Hosting
As discussed above, important features should be taken into account when comparing web hosting companies. Let's take a look at what DreamHost offers, and how it could benefit your business.
#1 – Ease of Use – Can You Set Up Your Site Easily?
First thing first, let's talk about ease of use. DreamHost offers one of the most user-friendly control panels in the industry. It is extremely easy to set up and manage your website or store with the help of an intuitive user interface.
Furthermore, you can get their services up and running in just a few clicks. This is ideal for those who don't want to spend too much time setting up their site.
– Creating an Account With DreamHost
Setting up an account with DreamHost is easy and straightforward. All you need to do is fill out your basic information such as name, email address, and payment details. Once you're done, you can start setting up your website or store in no time.
You just need to pick your desired plan, then choose a domain name and finally fill out the payment information for secure checkout.
– Installing WordPress
If you're using WordPress for your website or store, DreamHost makes it easier by offering a one-click installation. This will save you time and energy from manually installing the platform.
In the process of registration, they ask for your domain name. If you already have a domain name, you can use it. If not, they offer free domain registration as well.
– DreamHost cPanel & Dashboard
The need of the hour is a comprehensive and intuitive control panel. DreamHost offers an easy-to-use cPanel and dashboard with all the necessary features pre-installed.
You can easily manage your website, add new content, and customize different aspects of your site without any coding knowledge. Moreover, there are plenty of tutorials available to guide you along the way.
So, overall the ease of use and user-friendly interface makes DreamHost a great choice for beginners.
#2 – Performance & Uptime – Is Your Website Always Up & Running?
DreamHost offers some of the best performance and uptime in the industry. Their servers are reliable, fast, and secure with an uptime guarantee of 99%.
It sounds too good to be true, but they have consistently delivered their promise over the years. Moreover, their servers are optimized for WordPress websites which means you can take full advantage of their resources.
Furthermore, DreamHost also offers an array of additional features such as caching and CDNs to further improve your website's performance. This will ensure that your website is always up and running without any interruptions.
Recently, we tested DreamHost to ensure the reliability of its web hosting services by sending 100 virtual users. The testing process was designed to simulate real-world scenarios and gauge how the servers would perform under pressure. Results showed that DreamHost delivered an excellent performance with nearly 100% uptime.
The test included a variety of webpages from different industries which means that DreamHost is suitable for any website, regardless of its size and complexity. 
#3 – Security – Is Your Website Safe & Secure?
DreamHost takes website security seriously and offers several features to help protect your website from malware, viruses, and hackers. 
For example, they provide two-factor authentication, SSL certificates, and malware scanning to protect your website from malicious attacks. Additionally, they also offer automated backups which are great for keeping your information safe in case of any unexpected accidents. 
The following are the main security features offered by DreamHost:
Multi-Factor Authentication: In addition to your username and password, you can add an extra layer of security with two-factor authentication. Plus, you can further enhance your login security by enabling two-step verification.
Auto-enabled sFTP:  DreamHost automatically enables sFTP (Secure File Transfer Protocol) on all hosting accounts to make sure that your website files are always encrypted.
SSL Certificates: DreamHost provides free SSL certificates with all their shared hosting plans. This will help protect sensitive information when it's in transit, such as credit card numbers or passwords.
Malware Scanning & Removal: DreamHost scans your website on a regular basis to detect any malware or viruses. If they detect any malicious activity, they will immediately take action to remove it and protect your website from further damage.
Automated Backups: DreamHost offers automated backups which are great for keeping your data safe in case of any unexpected accidents. They also offer manual backups so you can choose the one that best suits your needs. 
Overall, DreamHost provides a comprehensive suite of security features to make sure that your website is always safe and secure.
#4 – Open Source –  Take Advantage of DreamHost's Open Source Community
DreamHost is an advocate for open-source software and encourages its users to take full advantage of the open-source community.
They provide access to a variety of tools such as WordPress and more. Plus, they have their own library of tutorials and guides to help you get started. 
In addition, DreamHost has an active community of developers and users who are always willing to help out with any issues you might have.
#5 – WP Website Builder & Custom Web Designs – Get Your Website Up & Running Quickly
Worrying about designing a website from scratch? DreamHost offers an easy-to-use website builder tool to help you create the perfect website. 
All you need to do is pick a template, customize it with your own content and images, and then launch your site.
The starting price of WP website builder tools is $2.59 per month, which is very affordable compared to other website builders. 
Moreover, if you want a custom web design for your site, DreamHost also offers professional web design services. They have experienced designers who can create the perfect website for you and make sure that it looks great on any device. Plus unique and ready-to-go designs according to your brand and industry. 
Ultimately, DreamHost provides the perfect solution for any website owner who wants to quickly and easily create a beautiful and secure website.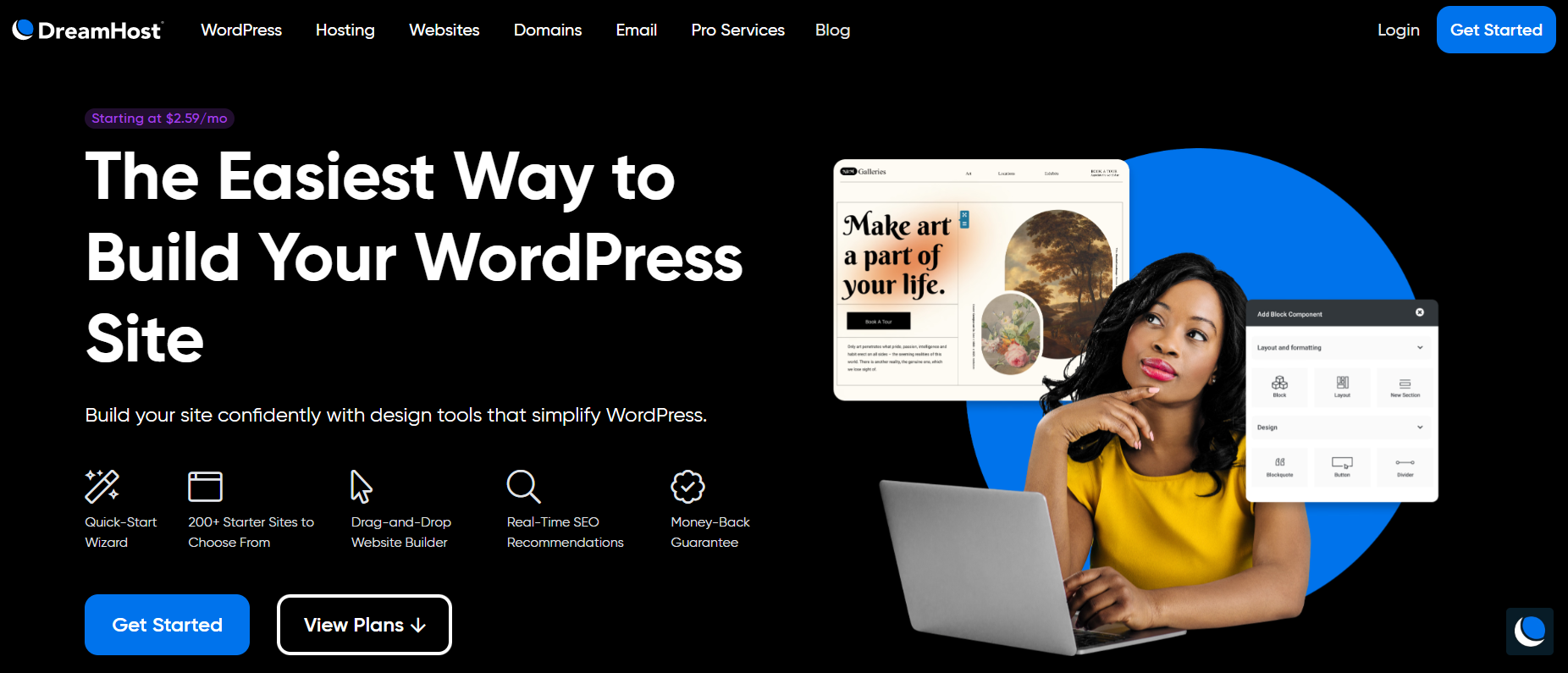 #6 – Reliable Support – Get Help When You Need It!
Any product, business, platform, or service is incomplete without a support system. Why? Because customers need help when they have questions, and DreamHost is no different.
DreamHost offers 24/7/365 customer support to its users. You can get assistance via email, ticket system, and chat whenever you need it. 
Plus, they also have an extensive knowledge base with tutorials and guides so you can find quick answers to your questions.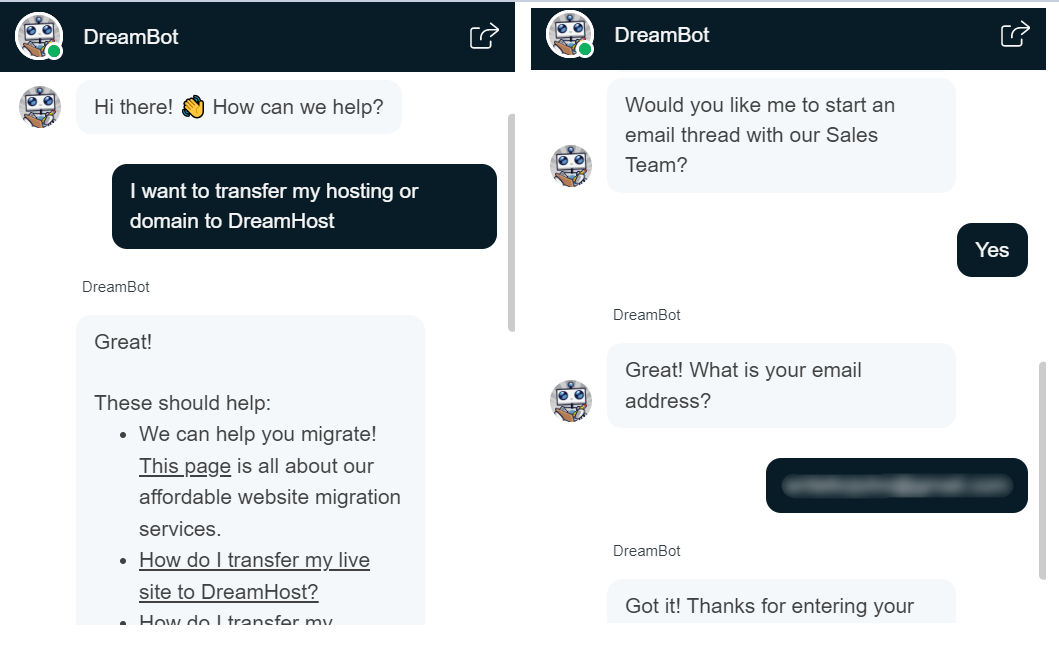 We tried to test their support, and how quick and helpful they are. We opened the chat via their DreamBot and got a response within seconds. The Bot then asked the query and we asked for their help to migrate our website from a previous hosting provider. 
First, the bot provided useful resource links but we wanted to talk to an agent. Then we entered our email and the bot started an email thread an agent joined the chat and provided us with step-by-step instructions on how to migrate our website. 
All in all, DreamHost's support system is fast, efficient, and reliable.
#7 – DreamHost Pricing Overview – Affordable Hosting Solutions
Whether you are a beginner or an experienced webmaster, pricing is the factor that always matters. Fortunately, DreamHost provides different hosting plans that are affordable and tailored to your budget. 
They offer various plans for shared web hosting, VPS hosting, managed WordPress hosting, Dedicated server hosting, and cloud hosting. 
Let's take a look at their hosting plans, so you can compare and decide which one is right for you. 
– Shared Web Hosting – Perfect for Small Businesses & Bloggers
The Shared hosting plan is the most popular plan at DreamHost and is perfect for those who are just starting out with their website. In a shared web hosting plan you can choose from two different packages.
Shared Starter: The first one is the Shared Starter which starts at $2.59 per month and gives you access to features such as storage, a free domain name, free SSL certificate, unlimited traffic, and more. But you can manage only one website.
Shared Unlimited: The second plan is the Shared Unlimited plan which costs $3.95/month and provides additional features like unlimited websites, advanced security, and more.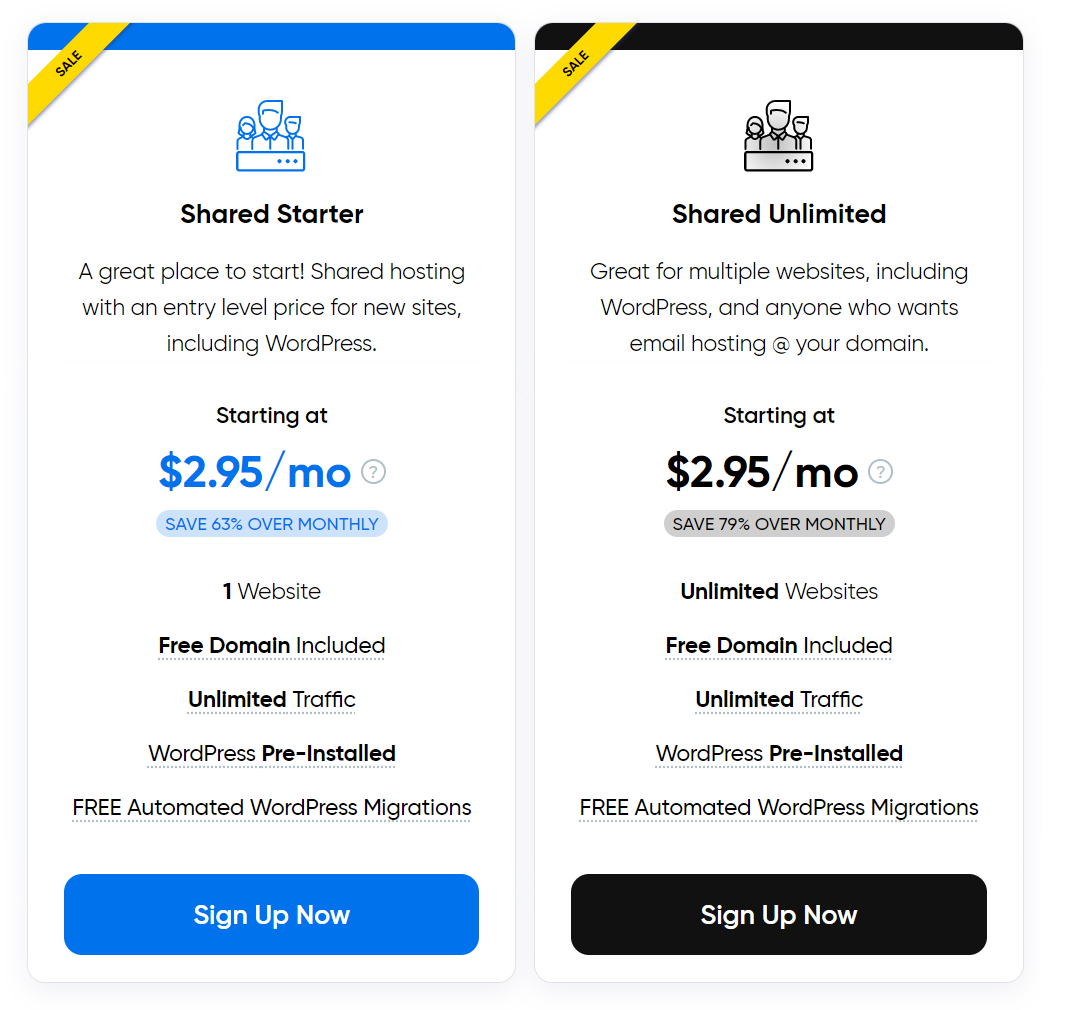 Overall, the Shared hosting plan is perfect for small business owners or bloggers who want to get their website up and running quickly with minimal effort.
– VPS Hosting – Ideal For Mid-Level Websites & Applications
DreamHost offers a variety of VPS plans that are perfect for growing businesses and mid-level websites. With their VPS plans you get unlimited storage, expandable RAM, traffic, and more. 
The starting price of the VPS plan is $10/month for the 3-year subscription and comes with features such as a free SSL certificate, unlimited SFTP users, an automatic backup system, built-in caching technology, one-click application installer, and more. 
For VPS hosting you can choose from 4 different packages which are;
VPS Basic: Starting at $13.75 per month for yearly subscription with 1GB Ram and 30GB SSD storage that is suitable for any small business website.
VPS Business: Starting at $27.50 per month for the yearly subscription with 2GB Ram and 60GB SSD storage to host your mid-level web applications.
VPS Professional: Starting at $55.00 per month for the yearly subscription with 4GB Ram and 120GB SSD storage to host your high-performance applications or websites.
VPS Enterprise: Starting at $110.00 per month for the yearly subscription with 8GB RAM and 240GB SSD Storage which is perfect for enterprise-level hosting.
Overall, VPS hosting is perfect for mid-sized websites that need more control and customization options.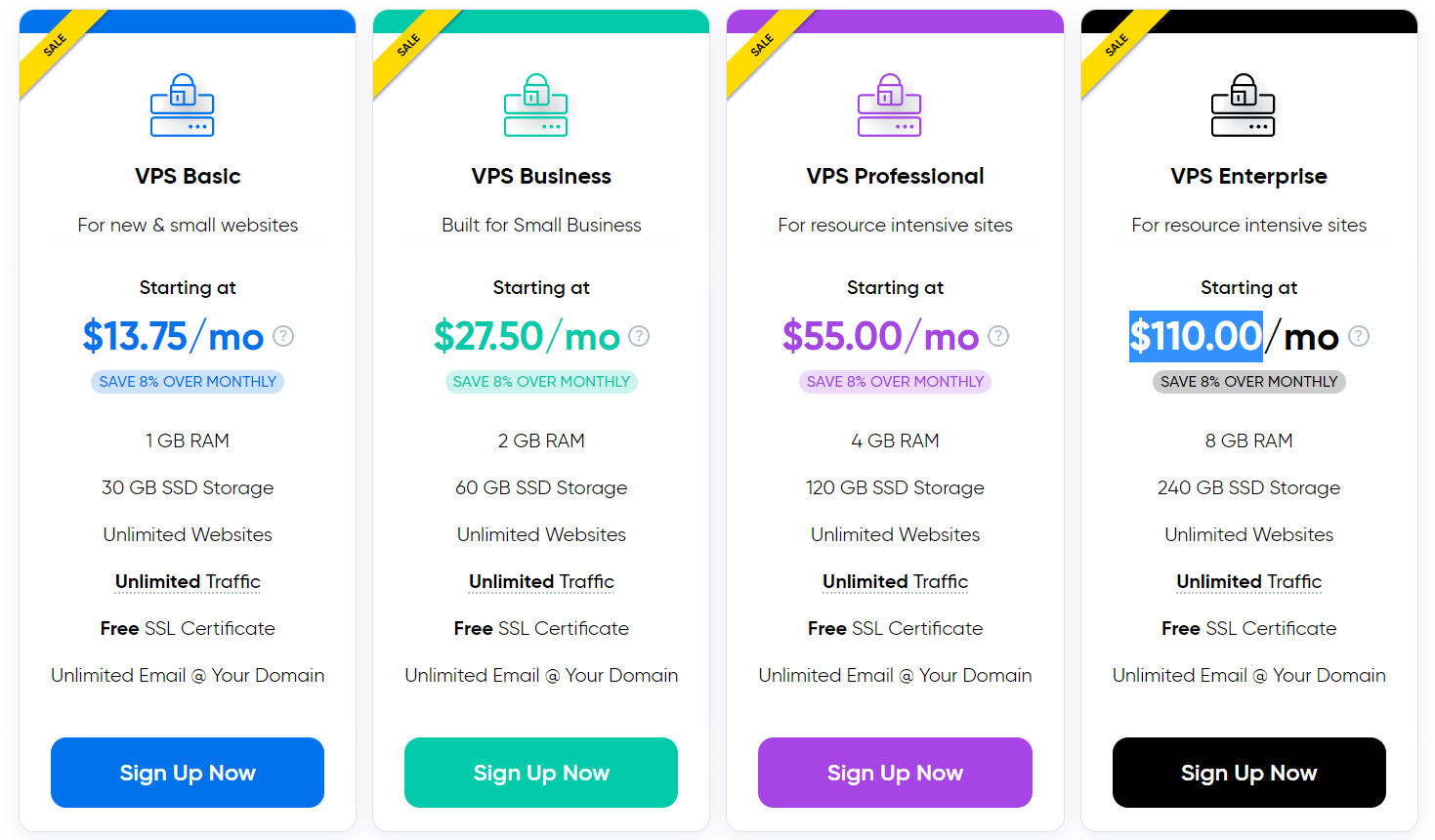 – Managed WordPress Hosting – Perfect For WordPress Enthusiasts
DreamHost offers managed WordPress hosting which provides an easy and hassle-free experience to build a website. With Managed WordPress Hosting you get pre-installed WordPress, automatic updates, security monitoring, and more. 
The starting price of the Managed WordPress Hosting plan is $16.95/month for the yearly subscription and comes with features such as unlimited storage, free domain name, built-in caching technology, advanced security protocols, unlimited CDN, and more. 
For Managed WordPress Hosting you can choose from three different packages which are;
DreamPress: $16.95 per month for the yearly subscription that can manage 1 website and can handle ~100k monthly visitors with 30GB SSD storage.
DreamPress Plus: $24.95 per month for the yearly subscription that can manage 1 website and can handle ~300k monthly visitors with 60GB SSD storage.
DreamPress Pro: With this plan, you get 1 website and can handle ~1M monthly visitors with 120GB SSD storage at $71.95 per month for the yearly subscription.
Finally, Managed WordPress Hosting is perfect for those who want to create a website using WordPress but don't have the technical expertise or time to manage their own server.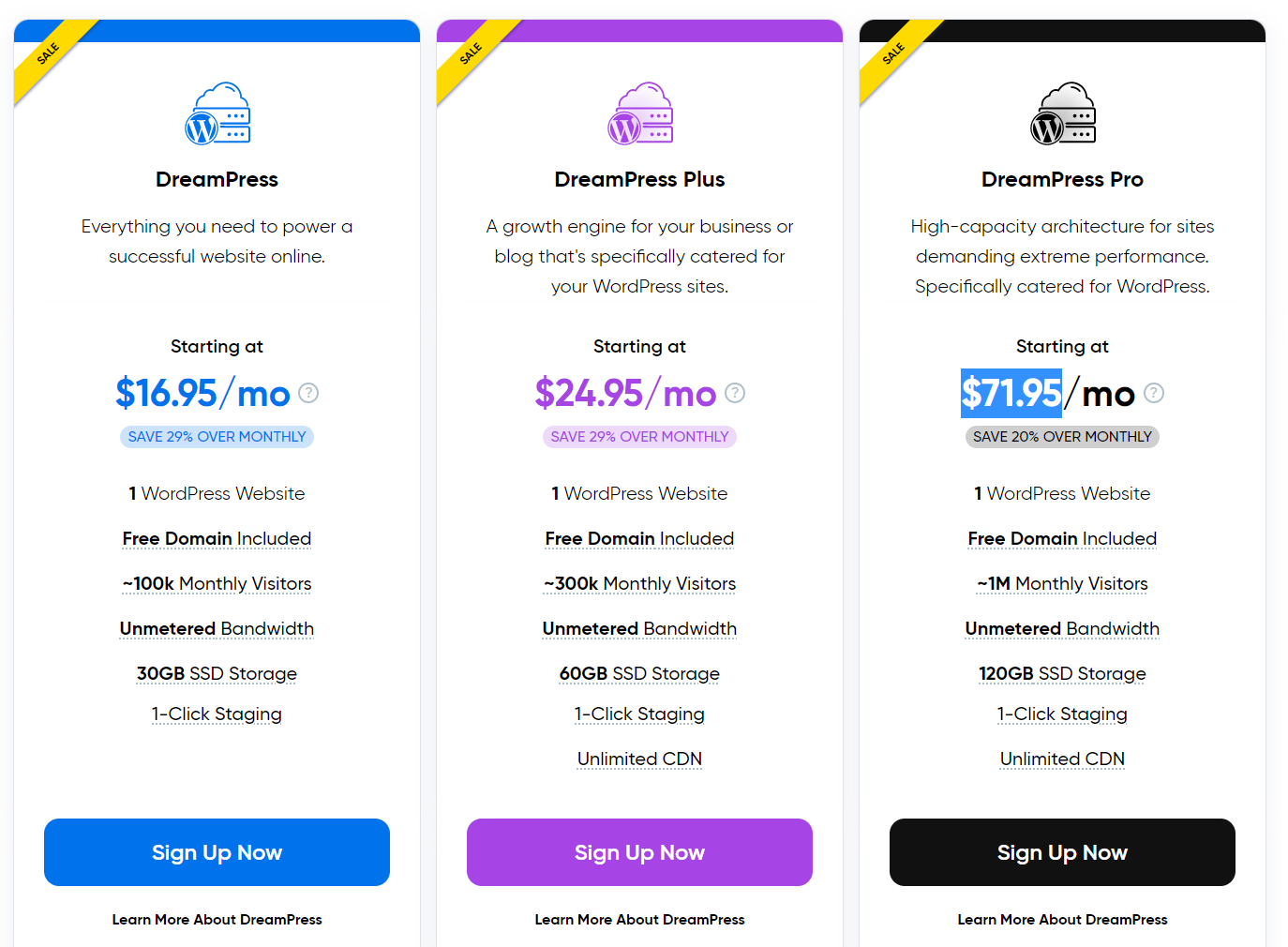 – DreamHost Dedicated Hosting – Ideal For High Traffic Websites
DreamHost offers Dedicated hosting which is ideal for high-traffic websites or large applications that need more resources. With dedicated hosting, you get access to an entire server with required or need-based storage, bandwidth, and RAM. 
In this hosting plan, DreamHost Offers two different processors with Intel Xeon 4-cores and 12-cores. 
You can choose your desired storage and RAM for both options and the starting price of the Dedicated hosting plan is $149.00/month for the yearly subscription. Price may vary as per your requirements.
Intel Xeon 4-cores: You have the option to choose the RAM from 4, 8, and 16GB with 1TB HDD storage.
Intel Xeon 12-cores:  You have the option to choose the RAM from 16, 32, and 64GB with 2TB HDD or 240GB SSD storage.
Overall, Dedicated hosting is perfect for high-traffic websites or large applications that need more resources as compared to VPS hosting or other plans.
DreamHost is one of the most popular hosting providers with many features like ease of use, great support, reliable performance, and affordable plans. It's an ideal choice for website owners looking to start or scale their businesses while keeping costs low. However, you should also keep in mind its limited payment options and no free email before signing up. 
Overall, DreamHost is a great hosting provider that can meet all your needs and expectations. Whether you need shared hosting, managed WordPress hosting, dedicated hosting, or cloud hosting, DreamHost has got you covered. So, if you're looking for a reliable web hosting service with cost-effective plans, then DreamHost is the right choice for you. 
Disclosure of earnings: we use affiliate links in some of the hosting services that appear on this page. This helps our site cover the costs of the site, Thanks for your support. 
Read more