InterServer Website Hosting Review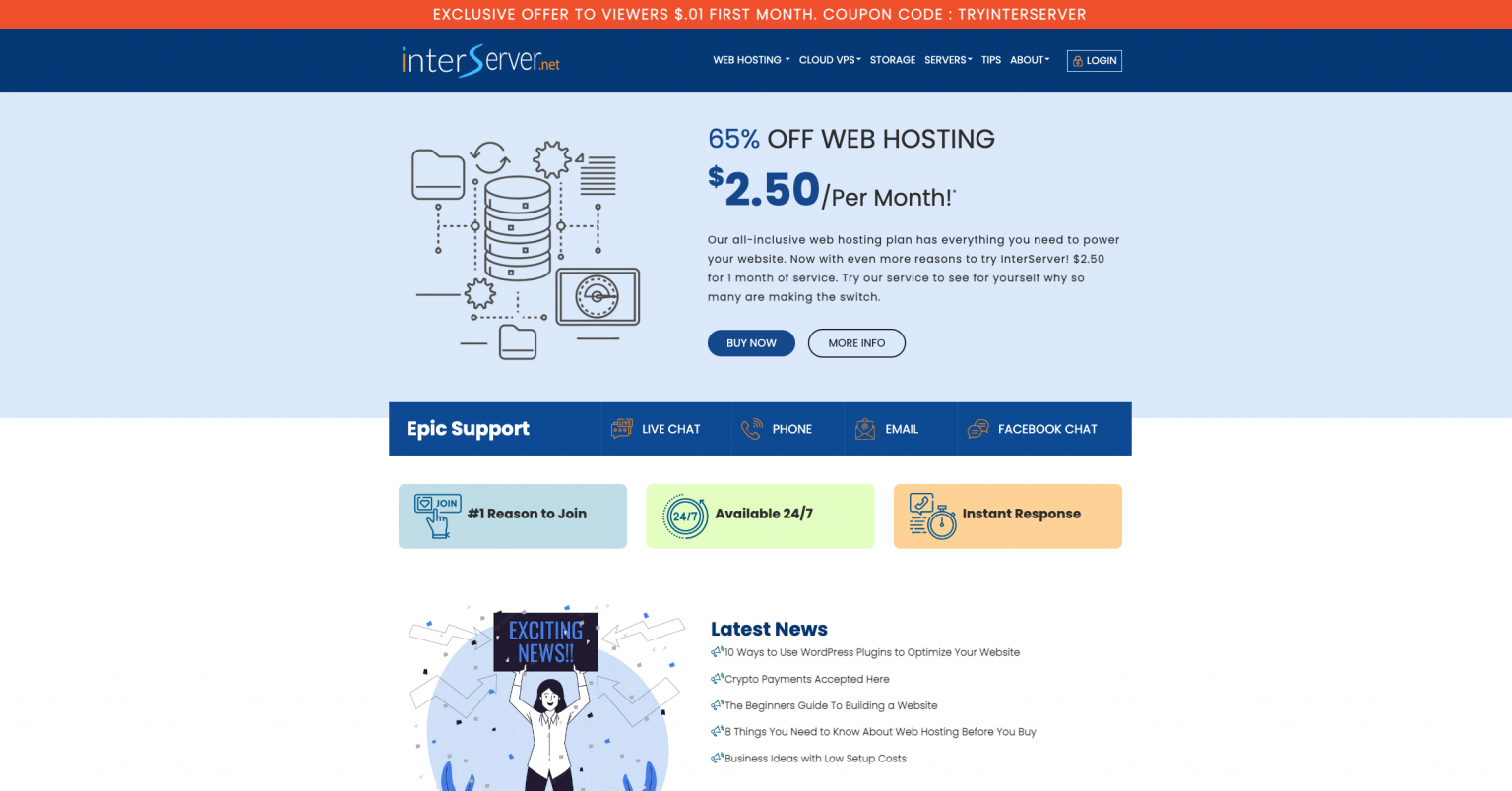 Reg. Price $7.00 – Get 65% Off!
InterServer is a US-based web hosting provider that offers a wide range of hosting services, including shared hosting, VPS hosting, dedicated hosting, and cloud hosting. Founded in 1999, InterServer has been providing reliable and affordable hosting solutions to individuals, small businesses, and large enterprises for over two decades.
One of the unique features of InterServer is its price lock guarantee, which means that the price you pay for your hosting plan will remain the same for as long as you remain a customer, regardless of any price increases. Additionally, InterServer boasts of a 99.9% uptime guarantee and provides 24/7 customer support through various channels such as live chat, email, and phone.
InterServer's hosting plans also come with a variety of features, including unlimited storage and bandwidth, free website migration, a website builder, and a one-click installer for popular CMS platforms like WordPress, Drupal, and Joomla. The company's commitment to providing high-quality hosting solutions at an affordable price has made it a popular choice among website owners and businesses.
Pros & Cons of Using InterServer Hosting
Best Web Hosting Companies
Features of InterServer Web Hosting
Before choosing any hosting provider, it's essential to know what features they offer. It'll help you decide if it fits your needs or not.
That's why here we will discuss some of the key features and real tests of InterServer web hosting.
#1 – Ease of Use – Can anyone use InterServer hosting?
The very first thing to consider is the ease of use. Whether the user is a beginner or advanced, the hosting must be easy to use.
InterServer makes it really easy for users to get their websites up and running quickly. It offers a user-friendly cPanel with all the tools, scripts, and one-click apps you need to manage your website.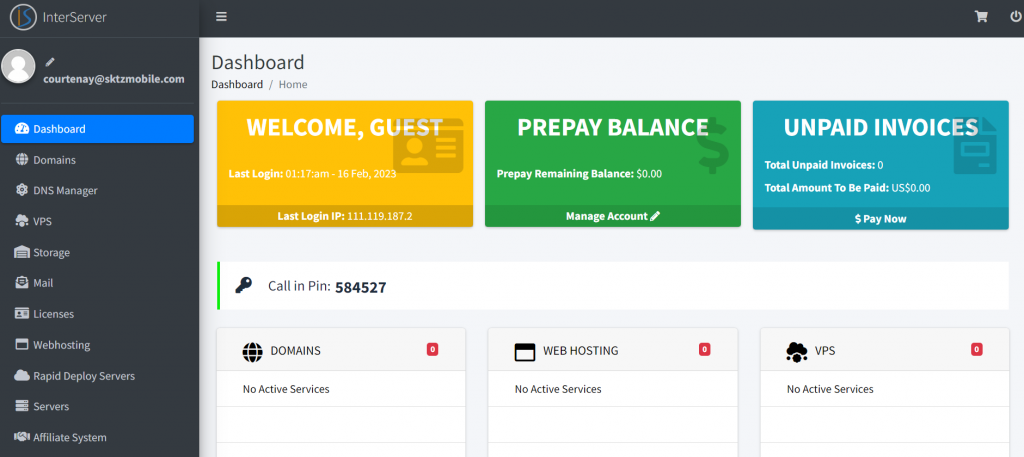 Plus, when you sign up for InterServer you will see a dashboard that offers easy-to-navigate options, so you can quickly locate what you need. Everything at one place, from domain name registration to website and file management.
Control Panel
The second most important feature of a web hosting service is the control panel. InterServer offers 450+ apps and scripts along with the cPanel which includes powerful tools and features.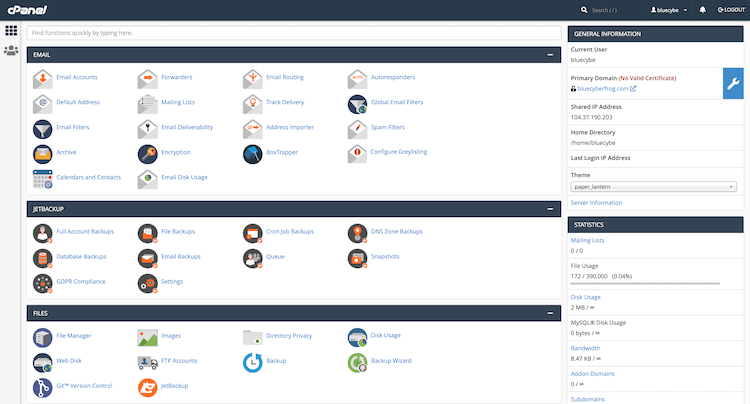 #2 – Server Performance & Uptime – How Fast is InterServer Hosting?
The performance of your hosting will determine the success of your website. If it's slow, users won't stay on your site for long. So, you must choose a hosting service that offers fast loading times.
InterServer presents high-speed servers that are optimized for speed and performance. The also guarantees 99.9% uptime, so your website will be up and running without any interruption.
As the data centers of InterServer are located in Secaucus, NJ, and Los Angeles, CA, your website will be loaded quickly in the US and also all around the world.
When tested for the US location, our website loads at less than 0.9s, which is much faster than the industry standard. While Google says if your website loads in less than  2.5s, it is considered fast.
While on other locations it also provided a speed of fewer than 2.5s also considered to be a fast loading speed.
So, you can trust InterServer to give your website the fast response it needs as in our test, it loads faster and provided the uptime that they promised.
#3 – Intershield Security & Reliability – How secure is InterServer hosting?
When it comes to security, you don't want to take any chances. You can trust InterServer for its robust security features such as DDoS protection, malware scanning and removal, and more.
The company also uses advanced firewalls and server hardening techniques to protect your website from any malicious activity.
Plus, the security settings of cPanel will help you configure password-protected directories or folders, GnuPG Key settings, IP address denials, and SSL/TLS to restrict access.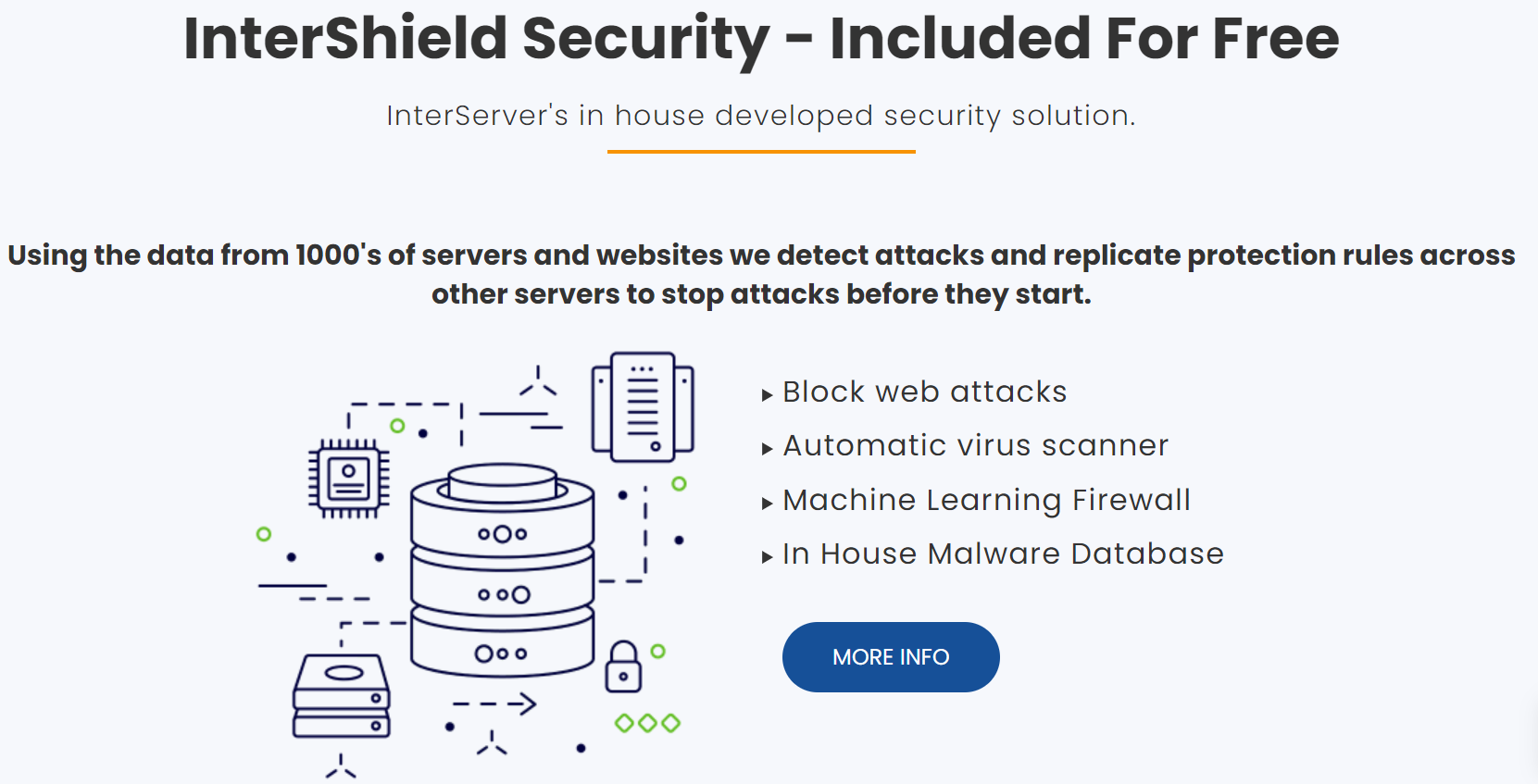 Moreover, the following are the measures taken by InterServer to secure your website:
Block web attacks: InterServer provides Web Application Firewall (WAF) to protect against malicious attacks. It also blocks suspicious IPs and enforces two-factor authentication for extra protection.
Machine Learning Firewall: When you install InterServer, it will scan your system to detect and block malicious requests.
Automatic virus scanner: InterServer also offers an automatic virus scanner that runs regularly to keep your website secured from any threats. It will detect and remove any malicious code or malware from the website. Plus, you can also set up a scheduled scan to check for viruses on a regular basis.
In-House Malware Database: The In-House Malware Database is one of the most important security features offered by InterServer. It contains all the malicious files and codes that can be used to attack your website. Whenever a hacker tries to upload any malicious code or files, this database will detect it and block it immediately. This helps keep your website safe from any kind of attack.
#4 – Free Migration Service
If you think that migrating your website from another hosting service is too much of a hassle, then you can use the free migration service offered by InterServer.
The company will help you transfer your website to its servers without any additional cost. All you need to do is provide them with the details of your existing web hosting account and they will take care of the rest.
The inter-server customer service team is also available 24/7 to help you with any queries or issues that you may have.  Whether it's setting up your account, managing your website, or troubleshooting an issue, they can help you out.
#5 – Unlimited Domains, Emails, and ULTRA SSD Storage
Unlimited, Unlimited, Unlimited – That's what you can expect from InterServer. All plans include unlimited domains, emails, and storage space so that you can host multiple websites on the same account.
Is that really enough?
No, InterServer also provides ULTRA SSD storage, which is one of the fastest storage media available. This will ensure that your websites load quickly and without any delays.  When tested with traffic, InterServer performed well.
#6 – 450+ Cloud Apps
The cloud apps whether you are running a blog, eCommerce store, community website, or anything else – InterServer has the right set of tools and apps to help you out.
The company offers over 450+ cloud apps including WordPress, Joomla, Drupal, OpenCart, Magento, and more.
Plus, these apps can be installed with a single click so that you can start working on your website in no time.
Not only that, but InterServer also offers a wide range of feature-rich tools such as WordPress caching, website builder, and more.
#7 – Free SSL Certificate
To ensure the safety of your website, InterServer also provides a free SSL certificate. With this certificate installed on your website, all data will be encrypted so that no one can access it without permission.
This is essential for any website as it helps boost your search engine rankings and also makes your website more secure.
#8 – InterServer Customer Support
Interserver is known for providing excellent customer service to its clients. They offer 24/7 support via phone, live chat, and email. Their support team is responsive and knowledgeable, and they are committed to resolving issues quickly and efficiently.
In addition to their support services, Interserver also provides a comprehensive knowledge base with helpful articles, tutorials, and frequently asked questions to assist users with common hosting-related issues.
Overall, Interserver's customer service is highly rated and is a key factor in the provider's positive reputation among users.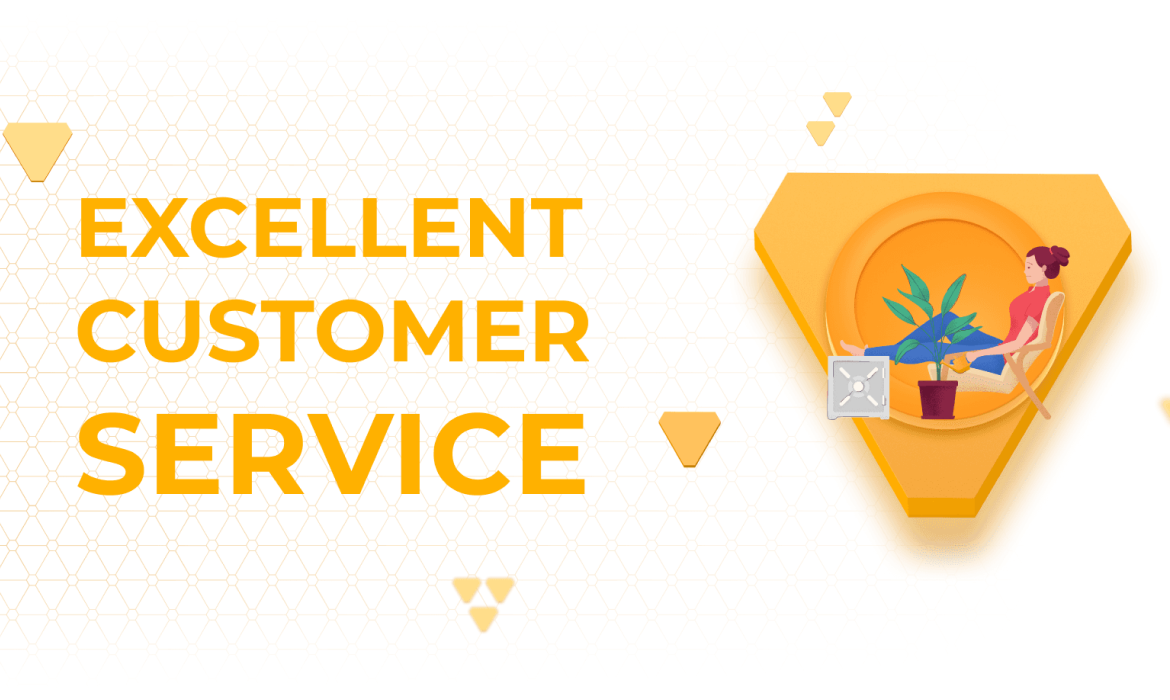 Pricing: How Much Does InterServer Web Hosting Cost?
InterServer web hosting is quite competitively priced. It offers a wide range of hosting plans, depending on your needs and budget.
When it comes to pricing, InterServer offers some of the most competitive plans in the industry.
Their prices start at just $2.5 per month which is quite reasonable. Plus, they also offer discounts if you opt for their annual plans.
Overall, InterServer is a great choice for anyone looking to get started with web hosting without breaking the bank.
#1 – Standard Web Hosting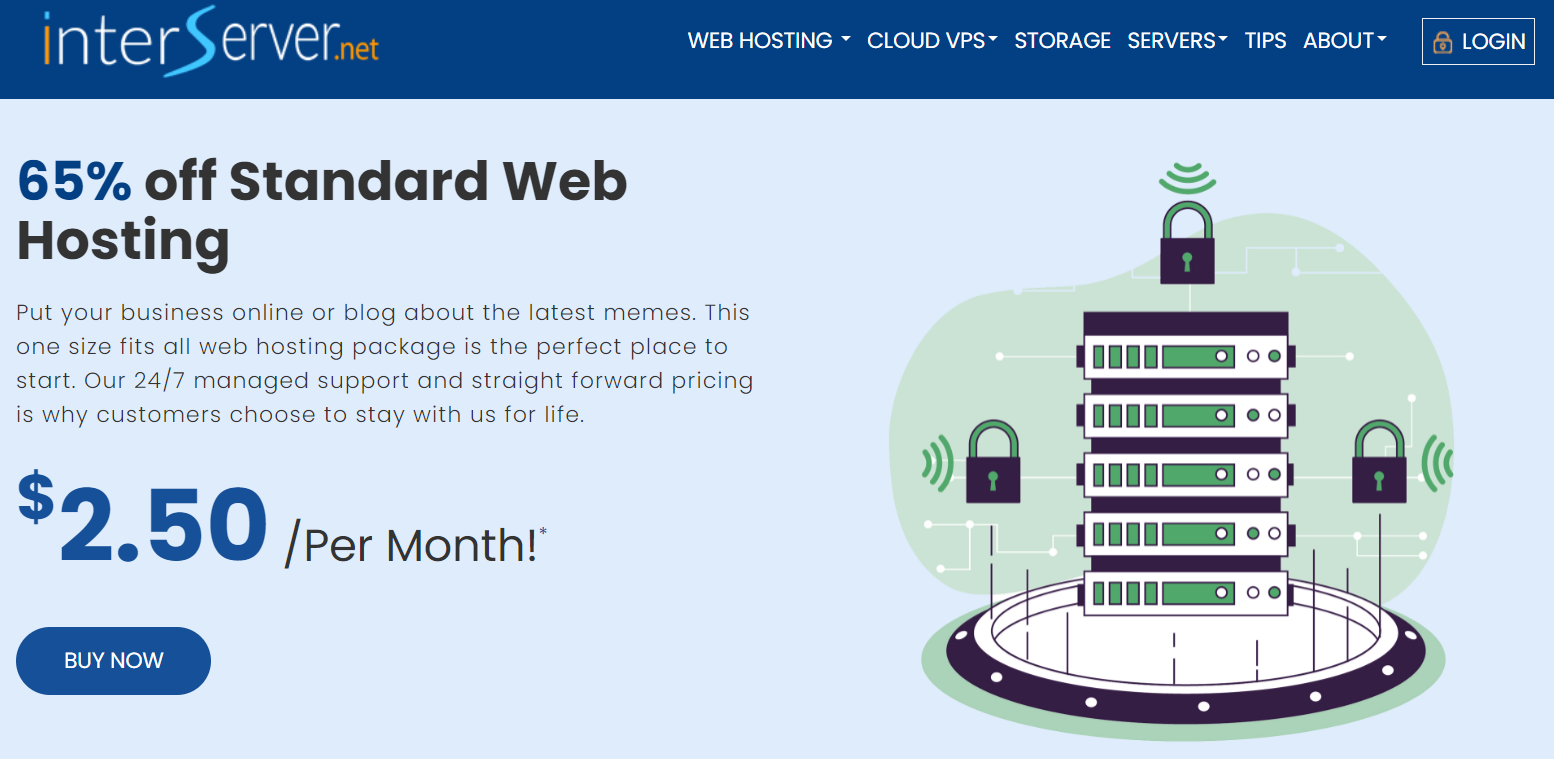 If you're looking for something basic from InterServer then this plan is for you. The starting price for this plan is just $2.50 per month and offers all the essential features such as unlimited domains, emails, storage space, and ULTRA SSD. 
Plus, it also includes a free SSL certificate and cloud apps to help you get started quickly with your website.
With all these features, it's a great option if you're just starting out and don't need the extra bells and whistles.
#2 – Reseller Hosting
If you're looking for a more flexible hosting option, then the Reseller Hosting plan from InterServer might be exactly what you need. With this plan, you can create multiple accounts and manage them all with a single control panel.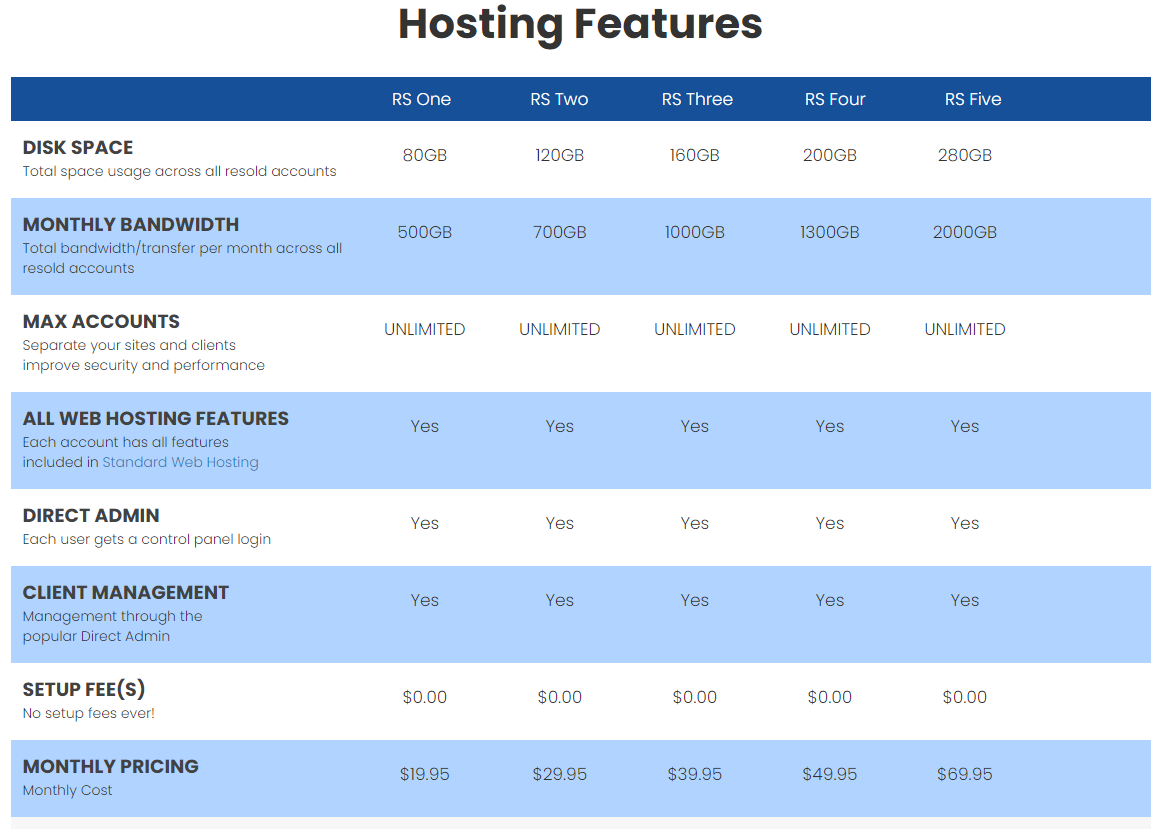 Based on storage space, InterServer offers five different packages, starting at just $19.95 per month. All these plans offer unlimited domains, and emails.
These plans include storage space from 80GB to 280GB and the price varies from $19.95 to $69.95 per month.
ASP.NET Web Hosting
If you're looking for powerful and reliable ASP.NET web hosting, InterServer has got you covered. Their ASP.NET hosting plans are built to provide a great platform for your business to grow on.
The plans come with MSSQL databases, bandwidth, and more. Plus, you'll even get a free domain name with your plan.
These plans start at $8 per month and offer various features to help you build up to 25 powerful websites.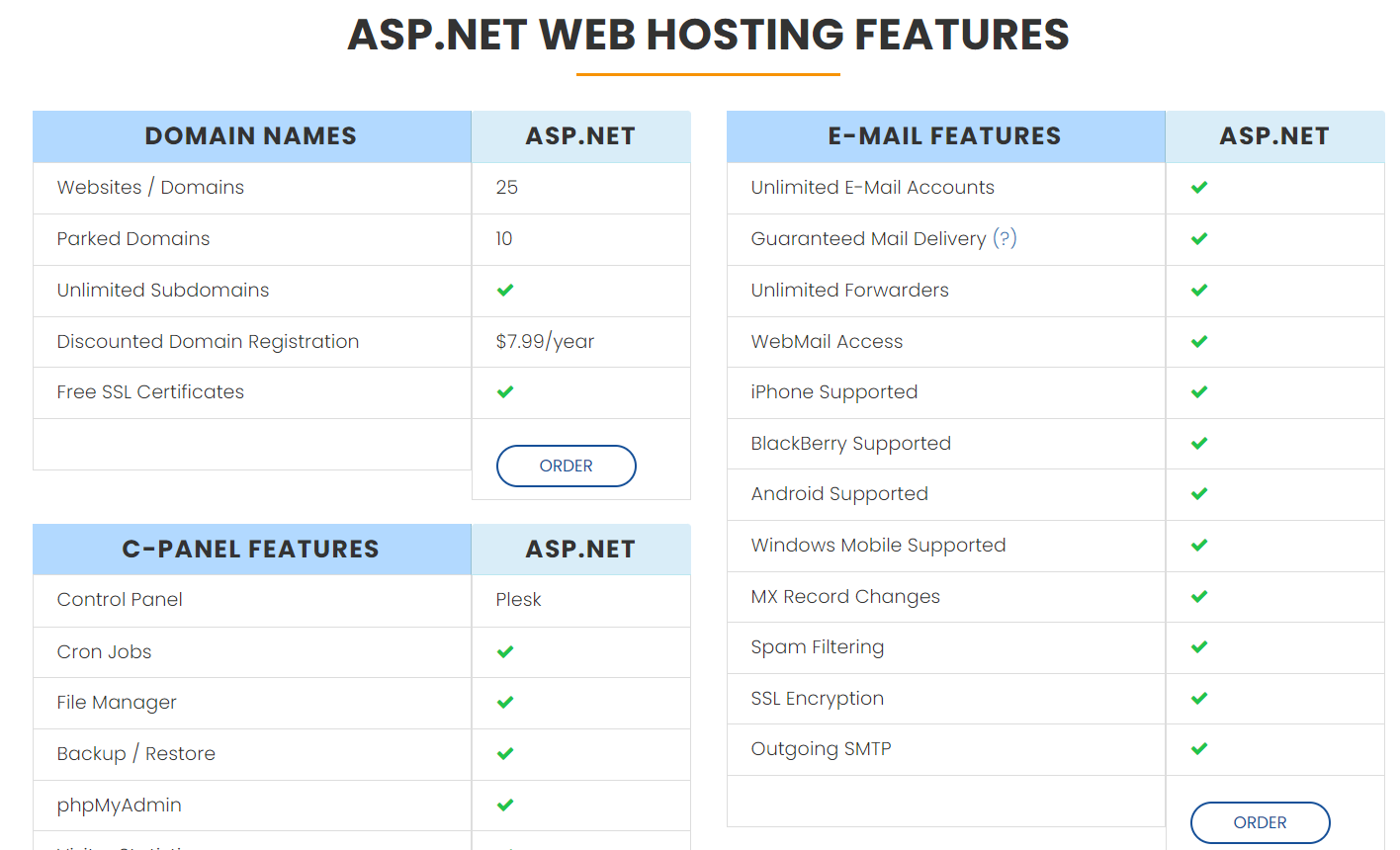 Boost Web Hosting
Want to supercharge your website? InterServer's Boost Hosting plans are the perfect solution. These plans offer blazing-fast speeds, storage and bandwidth, and more.
Plus, you also get access to cPanel for easy website management and advanced security settings to keep your site safe from unwanted visitors.
They offer three different pricing options for Boost Hosting, BOOST 2, BOOST 4, and Boost X. The starting price of these plans is $9.95, $19.95, and $69.95 per month respectively.
In comparison with the standard web hosting plan, the price is quite high but it also offers features like more storage, ULTRA SSD, and advanced security settings.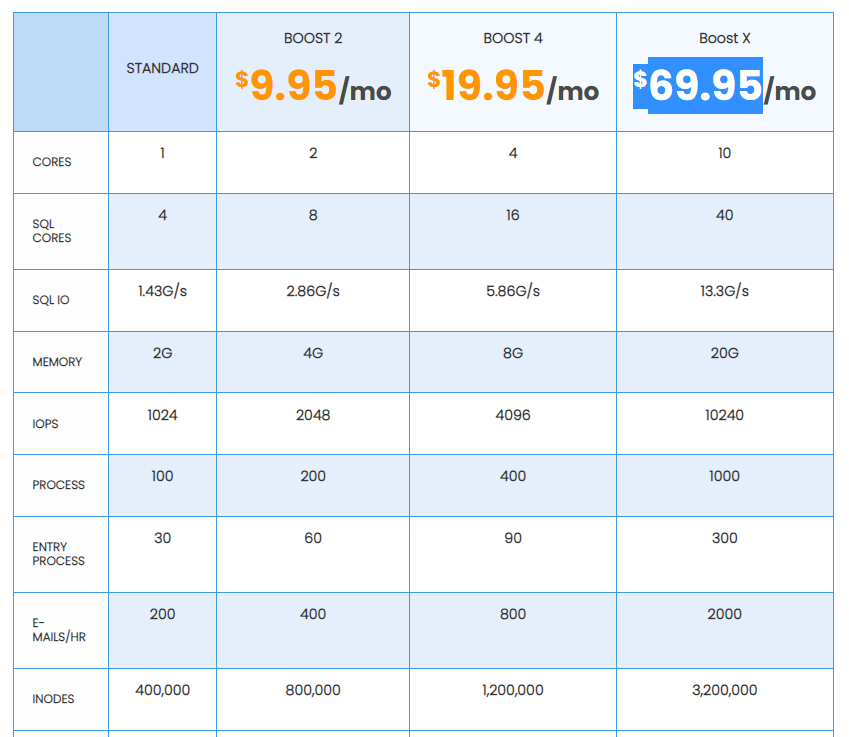 Private Email Hosting
Starting from $2.50 per month, private Email Hosting from InterServer is the perfect choice for anyone who wants to keep their emails secure and private. This service offers users a dedicated server that is completely separate from any public mail server, making it ideal for those who need maximum security and privacy.
With Private Email Hosting, you will get your own domain name, an unlimited number of email accounts, and all the features you need to manage your emails with ease.
Overall, InterServer offers a wide range of hosting plans and services that are perfect for any type of website. Plus, if you ever run into any issues, their 24/7 customer support is here to help.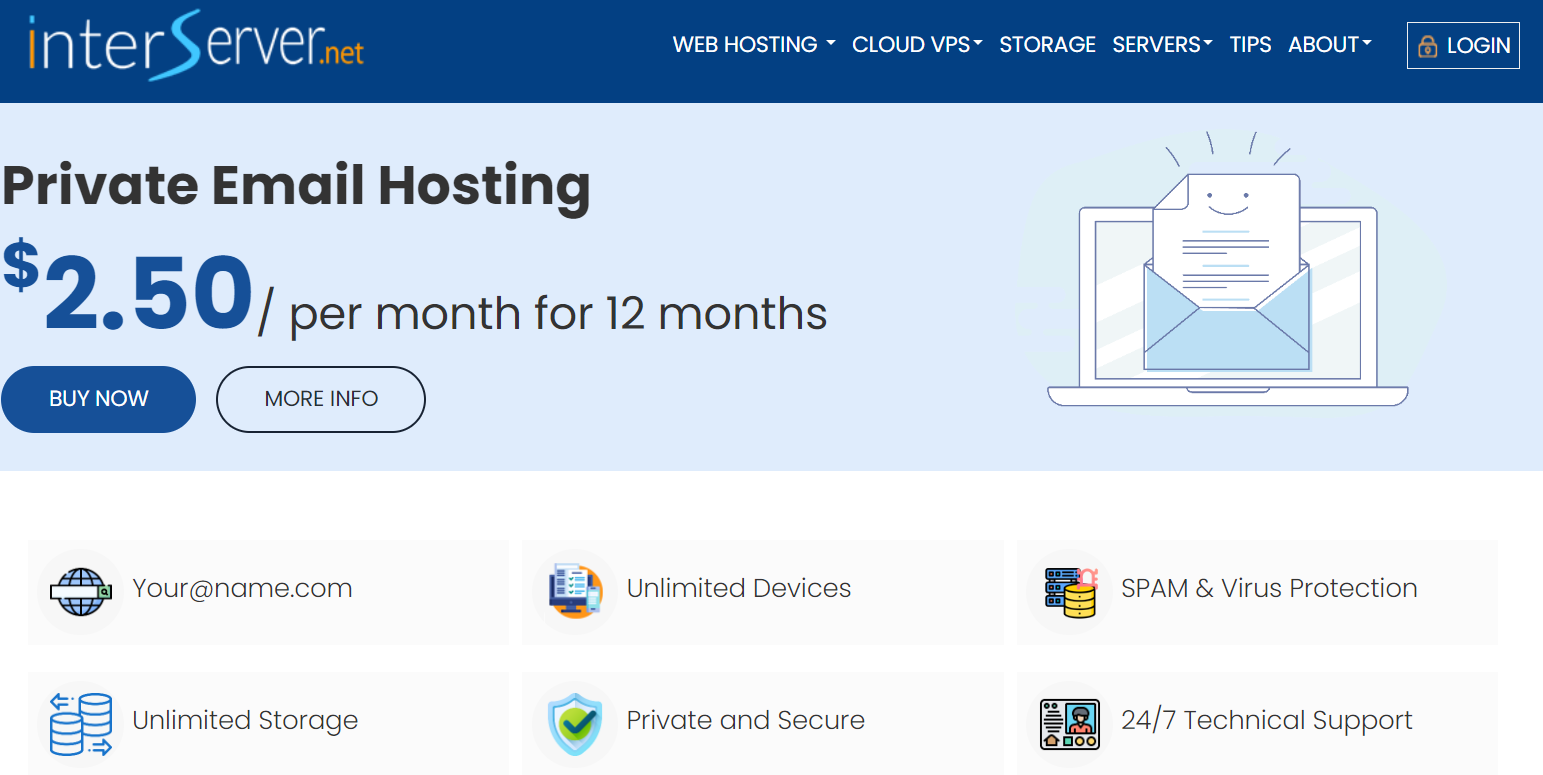 After taking a look at the various services that InterServer offers, it's clear to see why they are one of the top web hosting companies in the industry. Their prices are competitive and their security features are excellent. Plus, they offer a 99% uptime guarantee.
Overall, if we talk about their support, that is crucial. They offer 24/7 customer support via phone, live chat, and email. Their support team is responsive and knowledgeable, their agents will help you to resolve any issue you may have.
The InterServer web hosting company is definitely worth considering if you're looking for a reliable web hosting provider located in the US with excellent security features.
Disclosure of earnings: we use affiliate links in some of the hosting services that appear on this page. This helps our site cover the costs of the site, Thanks for your support. 
Read more