Namecheap Website Hosting Review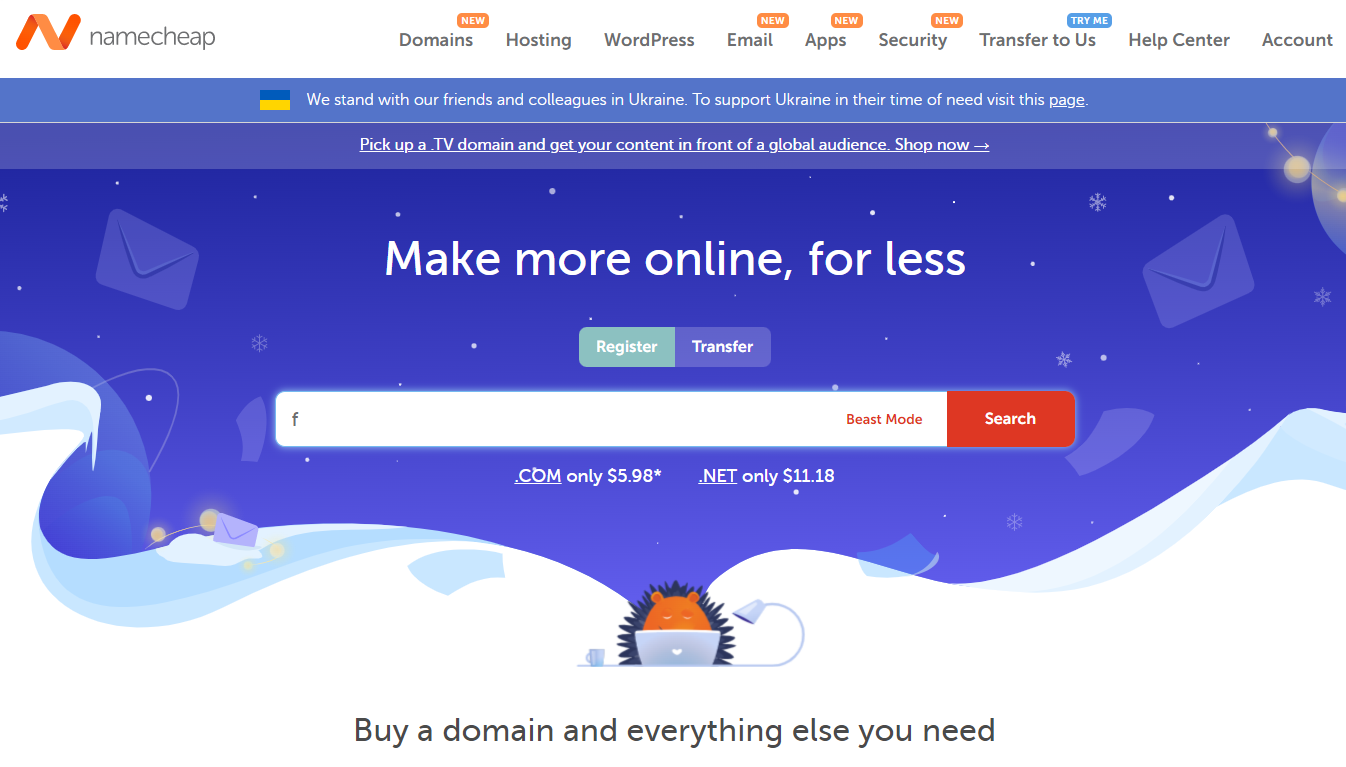 Reg. Price $4.48 – Get 56% Off!
Looking for a hosting provider that lives up to your expectations of cheap pricing, an easy-to-use interface, and high uptime? Then here comes the perfect fit.
Namecheap, a well-known hosting provider with a slew of services, was founded in 2000 by CEO Richard Kirkendall. The company aimed to provide the various domains and best hosting services and coupled them with core features like a high uptime of 99.9%, automatic backups, a LiteSpeed server, and a user-friendly cPanel at a minimal price.
Moreover, let it be shared hosting, reseller, WordPress, VPS, or email hosting; you can count on Namecheap as the best provider.
So, let's dig deep into the article and find out how the exclusive features of Namecheap hosting turn your hosting experience into a stress-free one.
Now, without any further ado, let's buckle down through the details!
Pros & Cons of Using Namecheap Hosting
Best Web Hosting Companies
Who is Namecheap? A Quick Overview!
With hundreds of thousands of Web hosting and domain providers, Namecheap is simply one of the best no-nonsense providers of a slew of well-sought hosting, management, and domain services at a reasonable price.
It was founded in 2000 by Richard Kirkendall and has its headquarters in Phoenix.
And what can be better proof of its quality services than Namecheap having more than 10 million domains registered within a few years and a significant number of hosting customers?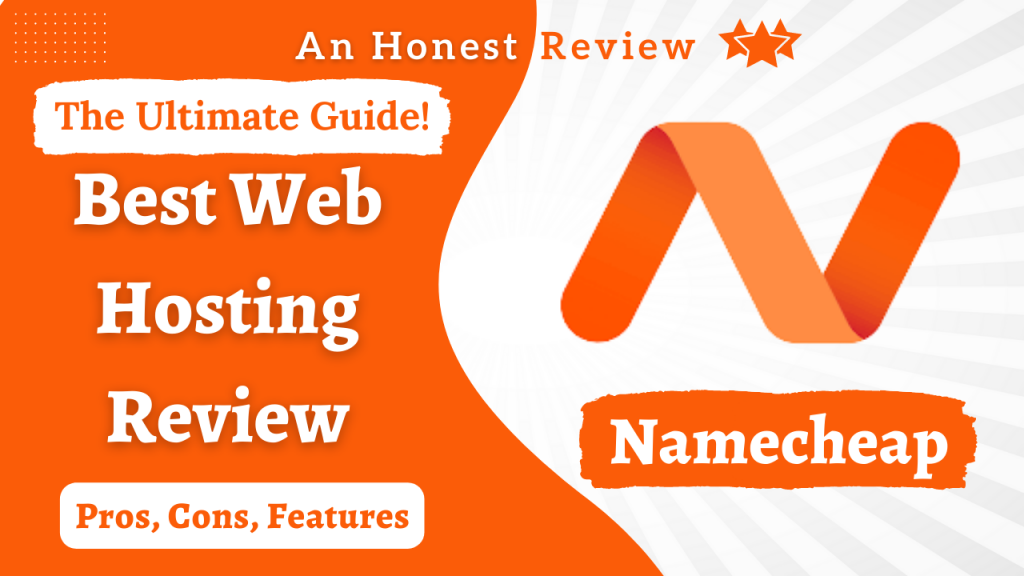 Why Choose Namecheap Hosting? Top Features to eye on!
Now that we are up with the introduction and services offered by Namecheap hosting provider, let's directly start off by enlisting the top-notch features of Namecheap and highlighting the positive aspects that let it stand out of the row. 
These include both the facts stated by the company as well as the observations that my team made after buying the plan and conducting various tests on it.
So, let's brace up and unravel the key traits and features that Namecheap offers.
#1 – User-Friendly User Interface
I personally have used Namecheap and can state that its UI is sleek, clean, and modern, and yet it has no confusing hoops to jump through. All the products and services are well-sorted and labeled. 
The color scheme is primarily white and black, which leads to its unmatchable sophisticated design with hints of greenish-teal pop-ups.
It uses a perfect blend of cPanel and native management panels, leading to a clean yet intuitive design.
The cPanel has no tweaks or flashy skin. Instead, it is naked and easy to access cPanel that even a beginner can decipher with the least knowledge of codex.
Lastly, it has a clean yet comprehensive dashboard that provides us with deep insights into our accounts and domains in an organized manner.
#2 – Domains
Since Namecheap was primarily a domain registrar, you get a vast range of appreciable features here. 
For example, every time you buy any web hosting plan, the provider gets you a domain name of your choice for one year, and that, too, is free. 
However, after one year, you need to purchase one. A few common TLDs and their prices are:
.COM domain costs $5.98
.NET domain costs $11.18
.ORG domain costs $7.48
.CO.UK domain costs $6.98
Moreover, if you already have a domain, Namecheap allows you to freely transfer and manage it through their platform. It also offers various domain management tools to control and manage your domain more effectively, like CNAME, MX, A, TXT, etc.
However, it doesn't provide temporary domain name services.
#3 – CDN
Where CDN (Content Delivery Network) is one of the prime sources of improving a website's speed and performance, Namecheap provides a top-notch CDN service to keep their client's websites at the top. These include:
60+ PoPs around the world to allow quick delivery of content
Real-Time reporting of bandwidth, traffic, and other metrics that help evaluate your website's performance
SSL and HTTP/2 support that boosts the speed and keeps data secure
Moreover, it can be easily integrated into your website by simply using a WordPress plugin or a specialized CDN hosting plan.
#4 – Security
Since providing security to users' information is the prime responsibility of any web hosting provider, Namecheap comes with a number of security features to ensure it. These include:
PositiveSSL certificate with all hosting plans
2FA asks for a verification code every time you login into your account from a new device
Free-for-life domain privacy to protect your domain information from any sort of spans, identity theft or hacking
Leech Protection specifies a specific number of logins within 2 hours.
Centreon Monitoring System that detects DDoS and stops them immediately, and Virus Scanner that scans your documents for viruses
HotLink Protection to prevent your bandwidth from getting stolen
Jellyfish Scan Protection blocks emails containing specific subject lines and phrases, thus contributing to the exclusive protection.

#5 – Backups
Since backing up a website regularly is necessary, Namecheap offers routine backup twice a week with its Stellar hosting plan.
However, if you grade the plan to Stellar Business, Namecheap provides an AutoBackup Plugin that ensures:
Five monthly backups
Three weekly backups
Six daily backups
#6 – SSD for storage
When it comes to managing Web hosting, Namecheap offers SSD storage in a number of its hosting plans. These help in the following:
Faster website loading time since SSD reads and writes way faster than HDDs
Less prone to failure
Reduce the response time
Use less energy, thus reducing your website's carbon footprint
#7 – Additional Website Features
Apart from the ones mentioned above, a few additional features that Namecheap offers are:
CloudFlare – a third-party app that caches static content on your website, increases security, and helps increase the site speed.
Softaculous – a software installation tool that allows installing a library of Web applications, including CMS, gaming, social networking, eCommerce, blogging, and many others, with just a few clicks

Apart from this, Namecheap offers a 100% uptime guarantee for its Reseller and VPS hostings and 99.9% for WordPress, Shared, and dedicated hosting.
Type of Hosting Provided by Namecheap
Moving on to the types of hosting, Namecheap has various low-priced hosting options. A few of them are Shared Hosting, Reseller Hosting, WordPress Hosting, Email Hosting, VPS, and Dedicated Servers.

#1 – Shared Web Hosting 
It involves hosting your site with many other users on a single server.
Since the cost is shared across multiple accounts, it costs only a few pennies ($1.88 per month) to provide you with a set of exclusive features like:
Free domain
Twice weekly backups
Free Migration
Website Builder
150+ apps
Unlimited Bandwidth
Isn't it just mind-boggling? And wait! I got something more to further amaze you.
Even the cheapest shared Web hosting plan supports three websites hosting.
The only pitfall is its comparatively reduced speed due to sharing of the server's RAM, connection, and even CPU.
#2 – WordPress Hosting
Whether you are a beginner looking for an easy website creation platform to help your startup or a person with a hugely successful business and website, Namecheap WordPress Hosting knows how to get your back.
It offers three different plans, named starter, turbo, and supersonic, that help you build, grow, and scale up your business.
Moreover, it has been tested personally to be the fastest hosting with a fully loaded time of merely 0.7 seconds.
Moving to its features, the plans offer:
Free CDN
SSL for a lifetime
Thousands of plugins and themes
One-click backups
One single dashboard
Maintenance mode
SFTP access
#3 – VPS Hosting 
It is one of the fastest and most configurable hosting services provided by Namecheap and one of the most expensive and complex ones too. (However, it is still cheaper than its competitive hosting providers)
Therefore, it is undoubtedly not a good option for novice users with the initial setup. However, if you have a highly demanding website, VPS hosting is the ideal fit to go for.
Its monthly plan starts at $6.88 and offers:
2 CPU cores
40 GP storage
1 TB bandwidth
2 GB RAM
Moreover, VPS hosting is powered with:
Different Web panels
Customisable OS
SSD storage
24/7 live support
#4 – Dedicated Hosting
Looking for a dedicated Web server that works solely for your website? Then the top-tier dedicated hosting is something you are probably aiming for.
It provides you with RAM, CPU, network connection, and bandwidth – all things reserved only for you and your website. It has both managed and unmanaged plan categories. A few key features are:
Free Migration
Same day set up
99.99% uptime
Different Web panels
PhoenixNAP data center
Server level choice
Optimized Network
Apart from these, Namecheap offers
Email hosting that fits best for people who want to promote their brand with every email they send
Reseller hosting allows you to purchase and sell resources and gain profit. It is ideal for web developers, entrepreneurs, and design firms.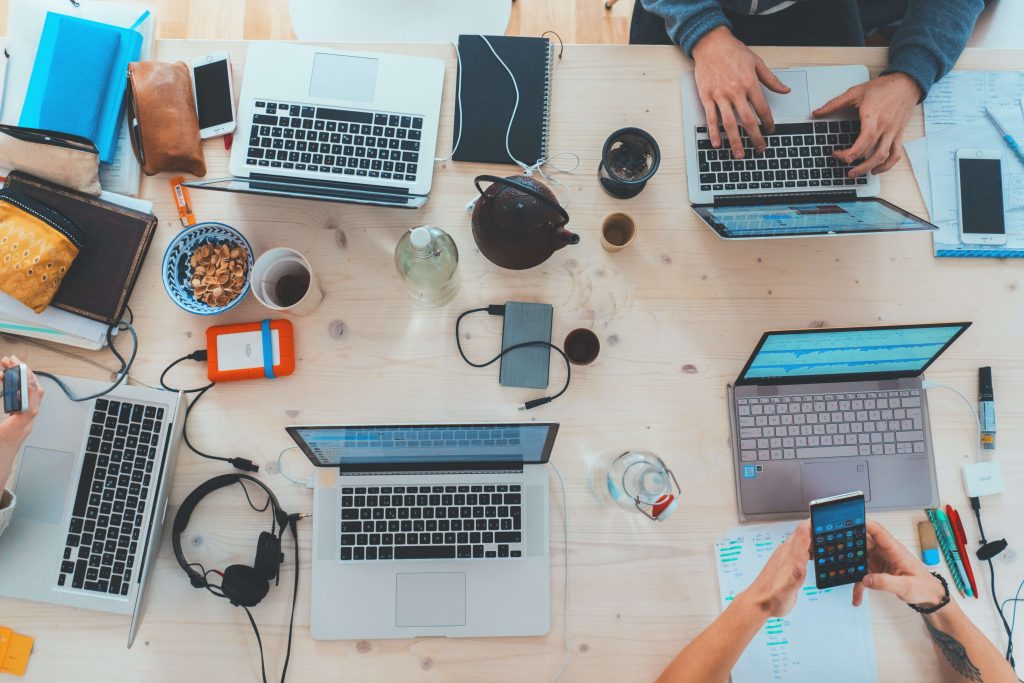 Pricing Plans
With multiple hostings available, there are different hosting pricing plans offered by Namecheap. So, let's have a quick comparison of them.
| Plans | Shared Hosting | Reseller Hosting | WordPress Hosting | Email Hosting | VPS Hosting |
| --- | --- | --- | --- | --- | --- |
| | | | | | |
| | | | | | |
| | | | $68.88 (EasyWP Supersonic) | | |
Top Alternatives of Namecheap indeed the only service to go for!
Although Name is one of the best hosting providers in the world with top-tier pricing plans, it may not fit the nature of all businesses.
So, here are the top three Namecheap alternatives to go for:
BlueHost
For people working online, BlueHost is quite a familiar name. It is one of the best, yet cheap ICANN trusted hosting providers, famous among starters and bloggers. Moreover, it offers a free domain name for one year, and later you can purchase it for only $11.99. Read our in-depth review for BlueHost for more details. The basic plan offers:
50 GB storage
Five email accounts
25 subdomains
SiteGround
SiteGround is yet another reliable hosting provider that has weathered the industry for over a decade and has partnerships with Google Cloud. Read our in-depth review for SiteGround for more details. A few of its hosting perks are:
Free daily backup
In-house security tools
Speed boosting tech
Servers in 4 continents
Very fast upload speed
HostWinds
If you're a small business or a new startup company, HostWinds is the best alternative to go for. Due to its SSD storage, it delivers the best performance for all types of businesses. Read our in-depth review for HostWinds for more details. Some of its exclusive features are:
Litespeed Web Server
Free Migration of Websites
Route Optimised Networking
Nightly Backups
Website Builder by Weebly
Monitoring of website performance
To put it bluntly, Namecheap is definitely one of the best and surely an unbeatable hosting providers as far as the cost is concerned. 
Let it be a friendly user interface, security, top-quality CND, or a punch of exclusive features in even the most basic plan, Namecheap surely knows how to set bars high.
However, it has some shortcomings too, like slow speed, and sometimes, a downfall in Uptime too.
So, all in all, we can conclude that if you long for a well-reputed hosting provider that provides great value and yet doesn't cost you bucks, Namecheap is the finest option to go for.
Disclosure of earnings: we use affiliate links in some of the hosting services that appear on this page. This helps our site cover the costs of the site, Thanks for your support. 
Read more